Research on Permanent Supportive Housing
In evaluating the project, it is important to separately consider the "typical" Affordable Housing versus Permanent Supportive Housing (PSH) also known as "Housing First." Though mentioned rarely in the promotional materials, PSH is at least half of the "revised proposal" as far as we can tell. PSH is often described as providing "supportive services for households with a disability." As we understand it, the "household" is most often one person and the disability is, in many cases, drug use or mental illness serious enough to contribute to homelessness. The word "first" in "Housing First" is after a strategy of providing someone with housing before they get sober. In other words, mentally ill people, often housed in single "studio" units, are free to use drugs and alcohol. When it comes to evaluating PSH, research suggests that some PSH tenants do stay housed for some period of time. But is this arrangement actually good for their health? When researchers attempted to answer this question, the results were troubling. Some outcomes were outright tragic. Several authors suggest that a different approach, "Treatment First" would do better to help these individuals improve their health. 

Charlestown's own Dr. Gerald Angoff wrote a letter to the Patriot Bridge (March 13 2023) about the distinction between Affordable and Supportive and the many challenges that the latter would face especially in this neighborhood.
Boston Mayor Wu Unveils Mass and Cass Plan
The Boston Herald, August 25, 2023
https://www.bostonherald.com/2023/08/25/boston-mayor-wu-unveils-mass-and-cass-plan-highlighted-by-tent-ban-and-30-bed-shelter/
A video of the press conference is here:
https://www.youtube.com/watch?v=PjS13gQy6tg


State lawmakers weighing bill to cover first responders exposed to needles at Boston's Mass and Cass
Boston Herald, July 24, 2023


https://www.bostonherald.com/2023/07/24/state-lawmakers-weighing-bill-to-cover-first-responders-exposed-to-needles-at-bostons-mass-and-cass/




CNN's Smerconish: A Proposal for the Homeless Crisis
CNN.com, July 15, 2023
"Every major city should offer shelter… but it comes with conditions!"


https://www.cnn.com/videos/us/2023/07/15/smr-proposal-for-homeless-crisis.cnn




Funding dries up for homeless clinic at Mass. and Cass Roundhouse Hotel
GBH News, February 23, 2023
https://www.wgbh.org/news/local-news/2023/02/23/funding-dries-up-for-homeless-clinic-at-mass-and-cass-roundhouse-hotel


'Rough Sleepers' Review: On the Streets of Boston
The Wall Street Journal, 

January 9, 2023


"Dr. O'Connell once believed that housing the homeless solved the problem. After finding half a dozen corpses of the formerly homeless in newly occupied apartments, Jill—his assistant at the time and later his wife—coined the phrase "death by housing." As Mr. Kidder writes: "Finding their corpses left Jim and Jill wondering if they weren't violating the physician's oath, actually harming patients by putting them in apartments." Dr. O'Connell now believes housing to be "more complicated than medicine."
This article is a review of the NYT Bestseller book Rough Sleepers

about Boston's Dr. Jim O'Connell. The phrase "

Death By Housing" is also the title of one of the chapters in the book.


https://www.wsj.com/articles/rough-sleepers-review-on-the-streets-of-boston-11673305031?st=ubfmtq1juaf4ofy




Charlie Baker says Boston must go after dealers to solve Mass and Cass problem
The Boston Herald, November 29, 2022
https://www.bostonherald.com/2022/11/29/charlie-baker-says-boston-must-go-after-dealers-to-solve-mass-and-cass-problem/


'Okay We Are Going To Cut This': Boston Mayor Michelle Wu Heckled So Badly She Ends Press Briefing: Video
Forbes Breaking News, October 20, 2022
https://www.youtube.com/watch?v=RLjcR2fKDKc


A 9-year-old boy fell on a needle at Boston's Clifford Park.
Boston.com, October 14,2022
https://www.boston.com/news/local-news/2022/10/14/clifford-park-incidents/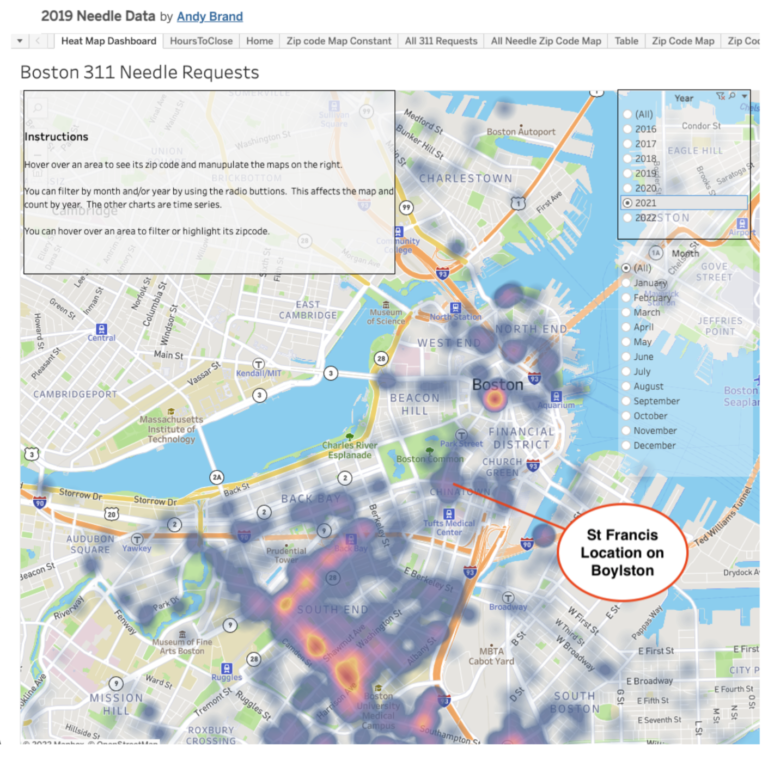 St. Francis House as an Organization
Police Incidents near the Current St. Francis Location
During the October 4 CNC meeting, a resident introduced himself as a retired Boston Police officer and mentioned the number of police incidents at the current St. Francis location. We decided to gather this data independently. First we downloaded Boston Police report data for 2022 from https://data.boston.gov/dataset/crime-incident-reports-august-2015-to-date-source-new-system, retrieved on December 29, 2022. Unfortunately the police data does not include exact addresses and is instead recorded at coordinate points roughly half a block apart from each other. St Francis House operates two locations across the street from each other: 39 Boylston St and 48 Boylston St. We conservatively filtered the data for the one point closest to these locations: (42.35231189676638, -71.06370510095782). This process may be imprecise. This may theoretically include some crimes that are very close to the location but not related to St. Francis House specifically. At the same time, this would not include a crime related to someone at St. Francis if it was geotagged one block away. St. Francis and POUA representatives have also claimed the Helm on Third project will be a different kind of housing ("not a shelter"), and that the downtown Boylston area is generally crime-prone. With those caveats in mind, we can tabulate the number of reports grouped by the OFFENSE_DESCRIPTION column. Overall, there were 86 reports for year 2022, or about one report every 4.2 days on average.
| | |
| --- | --- |
| OFFENSE_DESCRIPTION | Number of cases |
| ASSAULT – SIMPLE | 15 |
| SICK ASSIST | 11 |
| DRUGS – POSSESSION/ SALE/ MANUFACTURING/ USE | 10 |
| INVESTIGATE PERSON | 9 |
| ASSAULT – AGGRAVATED | 5 |
| SICK ASSIST – DRUG RELATED ILLNESS | 3 |
| LARCENY THEFT FROM BUILDING | 3 |
| VERBAL DISPUTE | 2 |
| THREATS TO DO BODILY HARM | 2 |
| TRESPASSING | 2 |
| ROBBERY | 2 |
| MISSING PERSON | 2 |
| LARCENY SHOPLIFTING | 2 |
| HARASSMENT/ CRIMINAL HARASSMENT | 2 |
| OPERATING UNDER THE INFLUENCE (OUI) DRUGS | 2 |
| SUDDEN DEATH | 2 |
| WEAPON VIOLATION – CARRY/ POSSESSING/ SALE/ TRAFFICKING/ OTHER | 1 |
| WARRANT ARREST – BOSTON WARRANT (MUST BE SUPPLEMENTAL) | 1 |
| VANDALISM | 1 |
| TOWED MOTOR VEHICLE | 1 |
| SICK/INJURED/MEDICAL – PERSON | 1 |
| PROPERTY – LOST/ MISSING | 1 |
| M/V ACCIDENT – INVOLVING PEDESTRIAN – NO INJURY | 1 |
| MISSING PERSON – LOCATED | 1 |
| LARCENY PICK-POCKET | 1 |
| FIRE REPORT | 1 |
| BURGLARY – COMMERICAL | 1 |
| DEATH INVESTIGATION | 1 |
Full detail on these 86 reports is available as a CSV file here.
Sex Offenders at the Current St Francis House Location
Project proponents have stated that, although registered sex offenders live at the St Francis House Boylston locations right now, they would not be allowed to live at the new Helm on Third location. Some of us have questions as to whether this policy could change in the future, particularly if St. Francis leadership changes. It's also not clear how they plan to screen for sex offenders who have committed crimes outside of the state or outside of the country altogether.
St Francis House operates two locations across the street from each other: 39 Boylston St and 48 Boylston St. The following is a list of Sex Offenders registered at these addresses. We count at least 15 individuals with apartment numbers, which suggests they are long-term tenants. Retrieved from nsopw.gov on Sunday, March 26, 2023:
The Boston Citywide Land Audit
A March 14, 2023 report from the City of Boston with an inventory of city-owned land parcels:
"The City owns 176.9 million total square feet of real estate made up of 2,976 unique parcels of land… 1,238 of the City's parcels (9.5 million square feet) are vacant or underutilized."
Online at https://storymaps.arcgis.com/stories/3b721ef32cce41338cd52a0a8c4a131f
 
Neighborhoods Ranked by Affordable Housing
Page last updated on August 27, 2023